Chanel Haynes
Performer
Chanel Haynes will be the special guest for the 2023 Tina Turner party in Cologne. Originally from New Orleans, Chanel started her career as a gospel artist. She was part of the two time Grammy-nominated group Trin-i-tee 5:7.
A devoted Tina fan herself, she has spent her recent years in London, where she played the role of Tina in Tina The Musical. She has also worked with the Rolling Stones, duetting on Gimme Shelter during their most recent tour.
Chanel performed during the 2021 fan party in Cologne and we are very excited about her return.
Anastasia Bain
Host & performer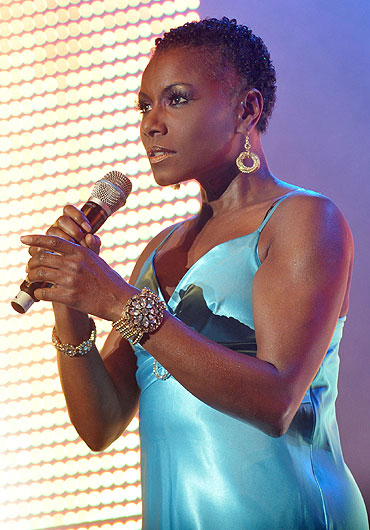 The Harlem born native New Yorker celebrated her debut at the age of 16 in AgnesDeMille's Conversations About the Dance at City Center in New York, graduated from the Juilliard School with a Bachelor of Fine Arts degree, and continued her education at the Nat Horne Musical Theater School, before making her European debut, playing the role of "Sally" in the touring production of Carmen Jones.
She was the female solo dancer in Porgy and Bess, directed by Götz Friedrich at Theater des Westens in Berlin. In Wynton Marsalis' composition All Rise, she was the mezzosoprano soloist, conducted by Claudio Abbado at the Berliner Philharmonic. In Hamburg, she originated the role of the female hyena "Shenzi" in the German production of Disney's The Lion King and as a result of her ability to handle the text in the South African language of Xhosa, she was the first African-American given permission to play the role of "Rafiki" in the German production of Disney's The Lion King.
Other career highlights include: "Killer Queen" in We Will Rock You in Cologne, Germany, "The Acid Queen" in The Who's Tommy in Linz, Austria, "Mrs Corry" in Disney and Cameron Macintosh's Mary Poppins in Stuttgart and Hamburg, Germany. She is currently playing the role of "Gran Georgeanna (GG)" in the German production of Tina The Musical at the Apollo Theater in Stuttgart.
We are very happy to welcome Anastasia back, after her first performance at our Tina Turner party in 2019. She will host the evening and perform for us.